On March 20th, the spring begins. A new season means a change in your wardrobe! The Spanish spring is a lovely time of the year, which pleases friendly flowering and rapidly rising temperatures. The air becomes filled with energy. It's time for endless comfortable walks and carnivals. The spring is the transition period between winter and summer.
For example in Andalucia, the average temperatures range from 20°C in March to 27°C in May. This is the warmest part of Spain in spring. The coldest part of Spain is for example nearby the mountains of Sierra Nevada. In this part the temperatures range from 6°C in March to 12°C in May. The average of the capital of Spain, Madrid, is in between Andalusia and the mountains. It will be 16°C in March and 22°C in May.
Besides all these facts about the temperatures, it´s important to know what to wear in spring! It´s time to switch your closet and to wear some other colors. We will forget the winter months of black, brown and navy and we have to look forward to some spring trends.  There is a pallet of colors which features the spring of 2020. Colors like faded blue, flame scarlet, Biscay green, coral pink, saffron and white are very popular this year.
Our spring collection 2020 of Miss Sonia Peña embraces these different trends and colors. The trend of this year conveys a sense of ease: friendly and relatable.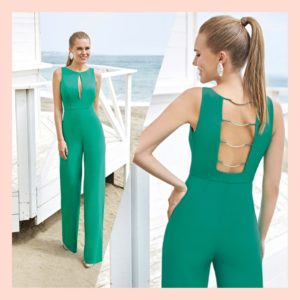 Are you already looking forward to spring? We have the perfect jumpsuit for you which you would love to wear in spring. This green jumpsuit fits perfectly when it´s too cold yet for a short dress and when it´s too warm to wear a jacket. On the back you will get some fresh air. The details of the back complete the look. With this color you will look very trendy which matches the spring trends of 2020. So, let´s go outside.